ANNA ZARLENGA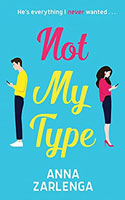 Not My Type (2020)
Teo is a reluctant guest at his friend's wedding – he is dressed in funereal black to protest at losing a wingman. Sara also hates weddings but this is her sister's big day. In a scene reminiscent of Mr Darcy meeting Elizabeth Bennet, Teo turns up his nose at academic Sara for being dumpy and poorly dressed, while she thinks he is plain rude. However unlike the Austen characters, neither turns out to have any charm or redeeming moments.
I don't think it bodes well when you are hoping the book climaxes with the heroine pushing her love interest off a bridge, never to be seen again. Teo – which I'm pretty sure stands for Totally Egotistical and Obnoxious - is one of the worst male leads ever. And for a semiotics teacher, Sara is pretty useless at seeing the signs that both Teo and her professor crush are not worth a minute of her time.
Possibly the humour, smooth writing style and nuances of character development got lost in translation (the original version is Italian) but unfortunately this enemies-to-lovers story was more annoying than cute. Not my type at all.

---