INTERVIEW
December 2009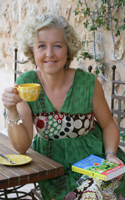 ANNA NICHOLAS
Anna Nicholas runs her own PR and marketing firm in London. She has written a series of memoirs about moving to Mallorca (or Majorca), including A Lizard in My Luggage and Cat on a Hot Tiled Roof. Her website is www.anna-nicholas.com.
(Interview by Angela Smith)
1. Tell us about your books.

I have written four books - the fourth will be out in June - based on my experiences living between London and Mallorca, where I now have a permanent home. The crux of the books is about how to juggle work and life when living between two countries - commuting back to a frenetic job in London while learning to adapt to a wholly new environment in a foreign country, in my case Mallorca, Spain. The books are tongue in cheek and I hope fun!

2. Did you always imagine you'd be a writer?

Do you know, as a child, I only ever wanted to be an author but my mother told me I'd need to get experience of life first. She was right and so I worked in various disciplines before finally realising my dream. I have no regrets and am glad to have had such rich and varied working experiences in my life that I can now draw on in my writing.

3. What is it that made you want to move to Mallorca?

My husband, Alan, and I had worked and lived in central London for many years running our PR company in Mayfair and decided that we needed a bolthole in a beautiful place. Visiting Mallorca for a holiday was our epiphany. We knew instinctively we'd found where we wanted to live eventually.

4. What do you miss most about living in London?

I suppose I miss theatre most of all and bookshops. I thought it would be my friends but to be honest, I probably have more quality time with them now that I am living abroad. We also keep in touch regularly by e-mail and phone.

5. Is it hard to manage your PR firm from your new home?

I have now merged my PR company so I no longer have to run it from home. To be honest, while I was doing it, it wasn't difficult. New technology has made working from a different country so much easier. There are also plenty of flights to Mallorca from London so I could hop back to London in a matter of hours if need be.

6. Did you ever get over your fear of flying?

I am much better about flying than before but I don't enjoy the experience. What helped me most was reading The Fearless Flyers Handbook, and also trying to assist seriously nervous passengers around me whenever I could. In doing so I realised that my own fears were nothing to those of some others, and trying to reassure them, helped me immensely in conquering my own irrational fear.

7. Do you find life easier and less hectic in Mallorca?

Most definitely. It's so easy going and the people work to live and not the other way around! It's so wonderful to look out over mountains and to have the beach practically on our doorstep. It's a rural paradise that's for sure.

8. Do you enjoy the wildlife in Mallorca?

Yes, I love the wildlife in Mallorca, particularly mammals, amphibians and bird life. We are so lucky to have such wonderful creatures living in close proximity. I can't imagine not living so close to nature ever again.

9. What would your advice be to someone who wants to up and move but isn't sure it's the right thing to do?

My advice would be to check out the desired location first and in different seasons. A place can look glorious in the sun, but can be depressing and soulless in the winter. Also it is critical to make sure you have enough money or a regular income to survive in a new country. There's also the question about infrastructure, medical facilities and the language and local customs. It's important to do one's homework first and get good advice locally.

10. Tell us about your next book Donkeys on my Doorstep?

This is the fourth in a series about my own experiences adapting to life in rural Mallorca. This time, I have a poignant love story from the Spanish Civil War as one of my themes, as well as poetry and literature. I'm mad about donkeys so making way to adopt two, was a big excitement for me, hence the title!

11. Why did you decide to blog about your experiences?

I felt that there must be others like me who dreamt of leaving the stresses of city life behind for a more tranquil and natural existence. I get a huge response to my website and my Majorcan Pearls blog at Telegraph Expat so I think I'm right.

12. Where do you see yourself in five and 10 years time?

In my dreams I would like to see myself have a number of novels, children's books and non-fiction titles under my belt. I have so many ideas for books that I keep a notebook by my bed to scribble down notes, plot and character references in the middle of the night. It would be good to keep up my journalism too. My family and I are truly happy living in rural Mallorca and I would like to think, God willing, that we'll be happily living our dream here for many years to come.
---
---