ANNA McPARTLIN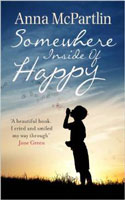 Somewhere Inside of Happy (2015)
In January 1995, Maisie Bean's world is turned upside down when her beloved sixteen-year-old son Jeremy goes missing. Maisie has already had to deal with more than most, having lived with an abusive husband, and now caring for her mother Bridie, who has dementia. Jeremy and her younger daughter, Valerie, are her pride and joy, and she'll go to the ends of the earth to get Jeremy back.
I didn't think Anna McPartlin could top the sensational The Last Days of Rabbit Hayes but she's only gone and done it with the most beautiful book of the year so far. A tale of a mother's fierce love, a son's desperate secret, and a family's beautiful bond, it is an incredibly moving, incredibly powerful story, with a final message that needs to be heard. Once again McPartlin creates not just a central character who readers will hold in their hearts, but a whole web of characters, from precocious but big-hearted Valerie to Maisie's loyal but ailing mother Bridie, and of course the adorable Jeremy and his best friend Rave. And in the space of a single novel she captures the whole of humanity – the good, the bad and the ugly – and explores a slew of compelling issues. McPartlin is fast becoming one of my favourite authors and this book is testament to her brilliance. (JC)

---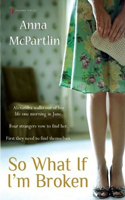 So What If I'm Broken (2009)
aka The One I Love, Alexandra Gone
Tom's wife, Alexandra, disappeared after catching a train one day. Months later, he meets three women - Jane and her sister Elle, and Leslie - when they all get stuck in an elevator at a concert. Jane happened to be Alexandra's best friend in childhood but they had since lost contact. Now a single mum, she has spent her life caring for her son Kurt, eccentric artist Elle and her cantankerous mother Rose. Leslie has the cancer gene and has lost her entire family to the disease. She decides to live alone, to spare anyone the pain of losing her. The women offer to help Tom find Alexandra - and in the process they all find themselves taking steps to get their lives back on track. This is a real page-turner as you wonder what has happened to Alexandra.

---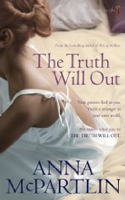 The Truth Will Out (2008)
aka As Sure as the Sun
Interior designer Harri Ryan has once again left her fiance at the altar - she is recovering in the hospital's A&E room from the same panic attack which caused her to miss her own wedding before. Convinced that these pre-wedding jitters are more than cold feet, James leaves their apartment and moves in with his best friend. George, her twin brother, however, thinks that there's more to this than meets the eye, especially since she had similar attacks when she was a child. So when Harri demands the truth from their parents, she discovers secrets that will threaten the tight bond within her family, forcing her to face the ghosts of her past she never knew existed. (XT)

---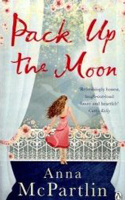 Pack Up the Moon (2006)
aka Because You Are With Me
Emma thinks she has the perfect life. She loves her teaching job and she's living with the man of her dreams until one day a tragic accident turns Emma's happy world upside down. Little by little and with the help of her friends, the grief-stricken Emma picks up the pieces of her shattered world and starts to live again. This deals with tragedy and loss in a very realistic way. You really feel the pain that the character faces throughout the book and you're wanting things to be OK for her - for her to find love again. (MY)

---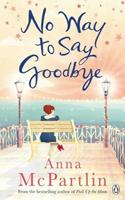 No Way to Say Goodbye (2006)
aka Apart From the Crowd
A new neighbour is moving in next door to Mary of the Sorrows. She is so-named because she has experienced much tragedy in her 29 years of life, including the death of her mother, boyfriend and young son. The newcomer, American music executive Sam, has moved to the Irish village where his grandmother once lived to escape his drug addiction. There's also Mary's cousin Ivan, whose wife has left and taken his kids; and her journalist friend Penny, who needs to face up to the fact that she's an alcoholic and her long-running affair with a married man is ending. This is a moving story about a group of lost characters needing to be freed from their past hurts. It is quite emotive but even tragic Mary's sense of humour is allowed to shine through.