ANDY JONES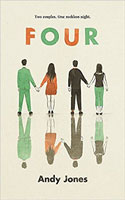 Four (2018)
Mike and Sally have been close friends since their university days but she ended up marrying his advertising colleague, Al. Mike is separated from the mother of his daughter and is dating a younger actress called Faye. On a weekend away in Brighton, things happen between the two couples that shakes their relationships to the core.
With realisticly flawed characters and a clever storyline, this book explores the complexities of love, friendship, regret and the choices we make.

---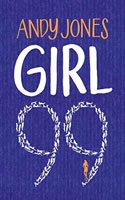 Girl 99 (2017)
When advertising producer Tom's girlfriend leaves him at Christmas because he kissed another girl, he realises that he has slept with 85 women. His best friend, El, who has Huntington's disease, urges him to get to No. 100 within a few months, throwing in a one-thousand-pound wager to spice things up. Somewhat reluctantly Tom does add a few more notches on his bedpost, but then he meets someone who may be The One – the one who may also lose him that one-thousand pounds. An earlier version of this story was first published in 2012 with The Two of Us character Fisher as the main man, hence the reappearance of his best friend El. Jones acknowledges in a note at the end that Girl 99 comes first, before the events surrounding El in The Two of Us.

---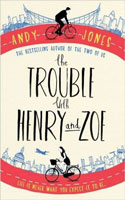 The Trouble with Henry and Zoe (2016)
Dentist Henry snuck out the night before his wedding, without telling fiancee April that he doesn't think they should get married. He forges himself a new life in London– but still feels guilty about what he has done. Meanwhile Zoe is wondering if she has made a mistake buying a place with her partner, Alex. After a major life upheaval, she decides to get away from it all and go travelling. Then Henry and Zoe meet. But their relationship always has a used-by date hanging over it – the day Zoe will step on that plane. Told from both perspectives, this well-written story delves into the struggles of two characters to get over their past hurts. I didn't feel any real spark of romance between the pair but their individual journeys were raw and realistic. And I particularly liked the ending.

---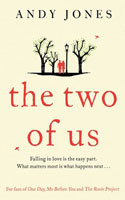 The Two of Us (2015)
William Fisher and Ivy are besotted with one another, having known each other for a total of 19 days. Since meeting on a commercial shoot, they have spent as much time together as possible. No one has been allowed to penetrate their bubble. But now they have to add family, friends and life in general into the mix. The parental introductions need to be made, Fisher wants to spend time with his best friend El as his Huntington's disease continues to take its devastating toll, and Ivy's brother Frank needs somewhere to stay. Then Ivy drops a bombshell and Fisher begins to wonder if they can indeed go the distance. This couple - indeed all the characters - are quirky and warmly drawn and the emotions feel completely natural. Fisher and Ivy's relationship highlights both the awkward and heartwarming sides of forging a deeper connection. Because this had been compared to Me Before You and One Day, I must admit I spent the entire story holding my breath, waiting for the impending heart-wrenching development you knew was coming. It's an engaging story and well worth a read but I just didn't love it as much as I expected to.