ANDREA SEMPLE
The Man From Perfect (2005)
Teacher Ella Holt ends her relationship with Rob the Slob after he forgets her birthday. So best friend Maddie sends off a magazine questionnaire about Ella's perfect man and she is selected to be matched by Dr Lara Stein's Perfect Agency. It seems that the agency has scored a perfect match with handsome James Masters. Or has it?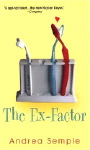 The Ex-Factor (2004)
Martha Seymore is a London relationship advice columnist whose boyfriend Luke tells her, while they are in bed together, that he has slept with another woman. So Martha dumps Luke and moves in with her new friend, Jacqui. Jacqui's partying ways introduces Martha to a whole new lifestyle of casual sex and drugs. She questions whether her new crazy lifestyle is as glamorous as she always imagined. As Martha answers her readers' letters, she starts to take her own relationship advice and re-examine some of her past relationships. Her relationship with an ex-boyfriend from high school gets particularly complicated when she learns that their love lives are more intertwined than she ever imagined. This novel is fast paced, however, the characters are annoying and forgettable. (AO)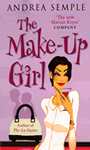 The Make-Up Girl (2004)
Faith Wishart's family think she has a great job for a top PR company and the perfect boyfriend, Adam. Actually Faith is a make-up girl at Keats Cosmetics and is without a man. But when her sister returns from Australia engaged, Faith desperately needs to find an 'Adam' to show off to her family at the wedding. And as luck would have it a handsome man named Adam walks right up to her make-up counter.

---
---