AMY POEPPEL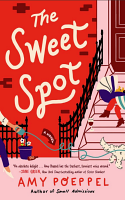 The Sweet Spot (2023)
Potter Lauren gets a break when home décor boutique owner and TV host Felicity commissions her to produce items for her store. Lauren and husband Leo have recently moved into his family's Greenwich Village brownstone and their three children are starting at Perkins Academy.
The school's new receptionist, Melinda, can hardly keep her mind on the job because she is furious that her husband of thirty years has left her for his pregnant girlfriend.
Olivia, whose father Dan runs the bar in the basement of Lauren's apartment building, has an altercation with a customer and loses her job after the footage goes viral.
It was clever how this cast of characters end up fitting together into a motley family of sorts. It's an entertaining and witty tale about imperfect families, revenge, and being left holding the baby.

---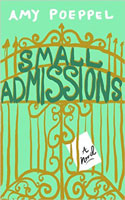 Small Admissions (2016)
The admission process to enter the best schools in Manhattan is hard for both the children and the parents as Kate Pearson soon finds out. After being dumped by her handsome French boyfriend, Robert, in a Paris airport right before she moved in with him, Kate has a breakdown and spends a year wallowing on her couch watching reruns of Sex and the City in the company of a cat.
Thanks to her sister Angela, she gets a job interview for an assistant position in the admissions department of the prestigious Hudson School and, after a disastrous but hilarious interview in which she pours out all her problems to her future boss, she miraculously gets the job. And she is good at it.
In the meantime, her best friend Chloe still feels guilty for introducing Kate to Robert and tries to make up for it by showering her with gifts and trying to find her a new boyfriend through online dating.
Her other best friend, Vicky, is tired of Kate's depression and wants her to move on, although for selfish reasons, while her overprotective and controlling sister Angela tries to make sure that Kate doesn't make any more bad decisions. While her friends and sister try to run her life, Kate has to deal with ambitious and crazy parents who want their children to get into one of the top schools in Manhattan.
Although, it seems that Kate is just a weak and immature woman who can't deal with a break-up, she is a smart, funny and strong woman and simply a fantastic character.
From parents who are too busy hating each other to notice how smart their son is to parents who refuse to accept that their child isn't that clever, this is an entertaining and refreshing novel perfect for fans of Sophie Kinsella, with brilliant characters, hilarious scenes (the interviews between Kate and some of the parents made me laugh so much), and a captivating plot that will keep you glued to the page. (NP)