AMANDA AKSEL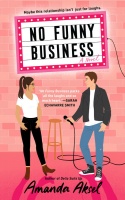 No Funny Business (2022)
Lawyer Olivia really, really wants to be a successful stand-up comedian. She's been doing gigs around the clubs of New York, and gets a break when she is called in last minute to open for a more experienced comedian, Nick Leto.
Just as she is let go from her law firm for not being committed enough, Olivia's invited to join Nick on a comedy tour across the US and the opportunity to audition for a Late Show TV spot. She jumps at the chance, while making it clear there won't be any funny business between them.
It was an entertaining ride as we joined the two comedians on the road, from the rundown motels to the burgers at every stop. I particularly liked the fact that the romance took a back seat to Olivia learning how to hit her comedic straps.

---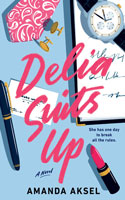 Delia Suits Up (2021)
Delia is finding it hard to get ahead as a woman on Wall Street – and even has to supplement her income cleaning apartments. During a game of truth or dare the night before her birthday, Delia wishes she was a guy. The next day, she wakes up to find herself in a man's body. Maybe now she'll be able to get ahead. As her alter ego Richard and dressed in a sharp suit, she confidently struts into a financial firm to show them what she's made of.
With its promising premise and humorous writing, this novel drives home the message that the corporate world is still unfortunately a man's world. Although perhaps Delia had a bit too much of a fixation with her male appendage - this went on for pages and pages … and pages.

---