ALYSON NOEL
Alyson Noel is a former flight attendant who has written several young adult books.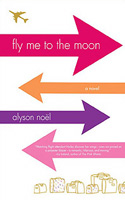 Fly Me to the Moon (2006)
When American flight attendant Hailey Lane's trip is cancelled, she heads home early to spend her birthday with her pilot boyfriend Michael, thinking tonight will be the night he'll propose. But instead she's confronted with him getting some personal attention from a male flight attendant. With the help of her friend Kat's penthouse, the companionship of her gay best friend Clay and lots of free flights around the world (including Puerto Rico, France and Greece), Hailey begins to get her life off the ground again. But when her airline threatens layoffs and the manuscript she's been working hard on keeps getting rejected, it seems there's more turbulence ahead. Especially when the cute guy who returned her lost manuscript keeps turning up on every corner.

---
---