ALLISON PEARSON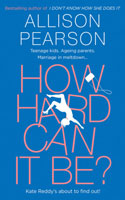 How Hard Can It Be? (2017)
Seven years after leaving her high-demanding job, Kate Reddy's life is still far from easy: her 16-year-old daughter Emily has problems at school and a picture of her bum has become a selfie (or "belfie") sensation on Facebook, while 14-year-old Ben rarely raises his eyes from the screen. Her husband Richard lost his job and he is too focused on his bike and his mindfulness to be of any help. Since her mother discovered technology she makes great use of it, including calling and texting all the time. Her in-laws are another worry on her to-do list and her house is a permanent construction site. The symptoms of menopause have the worst timings and she has to lie about her age to get her old job back. And when charming Jack, the man she's been in love with for the past seven years, comes back in the picture, Kate's life gets more and more complicated. Kate is nearing fifty but she is becoming invisible as everyone seems to take her for granted.
Women can relate to Kate both in her professional and her personal life in this sequel to I Don't Know How She Does It. She juggles a boring husband, two irritating teenagers, and sexist and ageist co-workers. Thankfully she is assisted by Roy, her mental assistant (their exchanges are hilarious), and a group of friends who, like her, are going through a discovery of themselves. I loved how the author explores the relationships between women, mothers and daughters, sisters, friends and co-workers and how they support each other even during the hard times. (NP)

---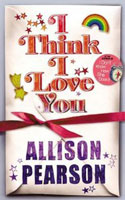 I Think I Love You (2010)
Back in 1974, Welsh teenager Petra was a mad-keen David Cassidy fan. She and her best friend, Sharon, devoured every photo and tidbit contained in The Essential David Cassidy Magazine. But, of course, The Partridge Family star and singer didn't have anything to do with the magazine. Instead his missives to the fans were penned by Bill, a frustrated music journalist. Twenty-four years later, Petra discovers that she had won the magazine's ultimate fan quiz and should have received tickets to meet her heart-throb on the set of his TV show. So she goes to belatedly claim her prize but will the moment live up to expectations?
This will appeal to anyone who's lusted after a celebrity - no matter what generation your pin-up comes from. It's a funny but poignant story that was well worth the wait. And the book ends with an interview the author did with her own teen hero, and answers that most vital of questions: is brown really Cassidy's favourite colour?

---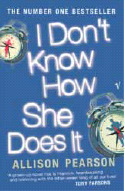 I Don't Know How She Does It (2002)
This is a classic story about a woman who tries to juggle too much in an age where women are wondering about the myth of 'having it all'. Hedge-fund manager Kate Reddy is a frazzled mother of two who's trying to make store-bought mince pies look homemade for the school Christmas party. Married to architect Richard, Kate feels endless guilt about not being a good-enough mother, especially because she has to travel a lot for work. When one of her trips brings her into contact with attractive client Jack Abelhammer, her family life is tested even more.