ALISON BOND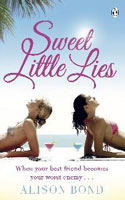 Sweet Little Lies (2011)
Cool Chrissie and studious Anna became unlikely friends at high school. Chrissie is the daughter of a wealthy businessman who is largely absent from her life; Anna's father took on a teaching role at the school so his daughter could get a better education. Amid an immense betrayal, the girls fallout and go their separate ways. Anna goes on to be a journalist, while Chrissie pretty much is biding her time waiting for a well-to-do husband. Their friendship is resurrected again but how can a relationship survive under a cloud of lies? This is an interesting story which reveals the thin line between a best friend and a frenemy.

---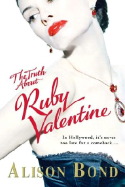 The Truth About Ruby Valentine (2006)
On the day that Hollywood star Ruby Valentine dies, Kelly Coltrane's father reveals that she is Ruby's daughter. So Kelly heads to Hollywood to attend the funeral and uncover the truth about her mother's mysterious suicide. As Kelly finds that it is never too late for a comeback, Ruby's path to fame is revealed in a series of flashbacks. I guessed the ending far too early but still an enjoying read.

---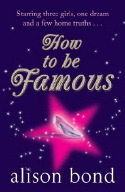 How to be Famous (2005)
Author Alison Bond's work in the movie industry no doubt inspired this book about the cut-throat world of film and fame. Lynsey Dixon works at a top talent agency in London. After she prevents the sacking of British actress Melanie Chapman from a movie set, she is transferred to LA to help Melanie settle into a new TV show. On a bus trip across America, Lynsey meets Serena Simon, a beautiful 14-year-old runaway who has dreams of becoming a starlet.

---
Did you know? Lynsey's boss, Max Parker, is also Ruby's manager.