Alisa Valdes-Rodriguez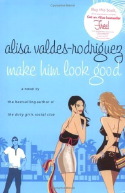 Make Him Look Good (2006)
Ricky Biscayne is a Latin singing sensation who is trying to cross over into the mainstream market. Milan is his biggest fan and is soon to become more intimately involved with him as his new publicist. Milan's sister Geneva is setting up Miami's hottest new club Club G and wants Ricky involved. Jill Sanchez, a manipulative Latina star who's having an affair with Ricky, also wants in to the club. Jasminka, Ricky's supermodel wife, finally starts eating something now she's found out she's pregnant. Meanwhile firefighter Irene wants to keep her high school romance with Ricky out of the spotlight unlike her daughter Sophia, who is beginning to suspect she looks a lot like the superstar. Then there's producer/songwriter Matthew, who's been with Ricky from the beginning but is now having to take on too big a role. A pacy novel told from the various points of view.

---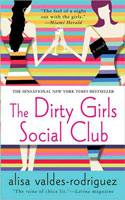 The Dirty Girls Social Club (2003)
Six Latina women - all former journalism/communications students at college - meet up every six months. Newspaper columnist Lauren discovers her boyfriend is cheating on her; TV news anchorwoman Elisabeth is about to be outed with her lesbian lover; singer Amber is ready to sign a record deal that she hopes will make her famous; mother-of-two Sara is pregnant again; magazine editor Rebecca's marriage just isn't working; while Usnavys is trying to find a man who matches her earning power.

---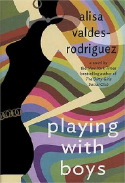 Playing with Boys (2004)
Alexis is a talent agent in LA trying to take Mexican music into the mainstream. She's always looking out for new talent, so when she bumps into Latina soap star Marcella she thinks she's found the next big movie star. Then she meets Olivia, a shy stay-at-home mum who's written a dynamite script about how her mother survived after her husband was gunned down in El Salvador. The three band together to try to get the movie made.