ALEXANDRA POTTER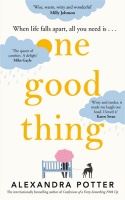 One Good Thing (2022)
Liv is going through the stages of grief after her divorce and has moved out of London to the Yorkshire Dales, where she has fond childhood memories.
She buys a rundown cottage that needs renovations and adopts a rescue dog, Harry. Harry helps her meet people on their daily walks, including Valentine, an old man whose wife has gone into care for Alzheimer's, and young Stanley who doesn't quite fit in.
This was a lovely, life-affirming read about community, loneliness and moving on after loss. The perfect sort of book to curl up with on a rainy weekend.

---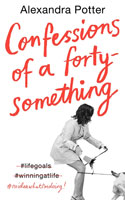 Confessions of a Forty-Something (2020)
Nell has returned to the UK from California after the collapse of her business and relationship. While she's been away, her friends have all settled down and started families. Having to move into shared housing, she is feeling rather like a forty-something f*ck-up.
After landing a job writing obituaries, Nell forms a friendship with a lively widow twice her age and starts a podcast about not having your shit together.
This book reminded me how much I enjoy Alexandra Potter's writing (it has been at least five years since I last read one of her books!) It's a wryly humorous tale about a woman who is not where she thought she'd be by her forties. I especially loved the daily gratitudes list.

---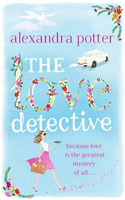 The Love Detective (2014)
Ruby's fiance cheated on her and now she doesn't believe in love anymore. Which is particularly unfortunate when you're a romance writer. To help her get over her writer's block, her agent Diana urges her to take a break. The next thing she knows Ruby is being met in Goa by her backpacking sister Amy and heading off to a yoga retreat.
But Ruby's Indian adventures don't end there, as she ends up on an overnight train to Delhi, where she meets a handsome American named Jack.
Can the magic of India and its people restore her faith in love? Ruby is an endearing character who gets herself into all sorts of scrapes on her travels.
It's a charming story, with a touch of mystique, and full of the sights and sounds of the Far East. Readers will definitely fall in love with it.

---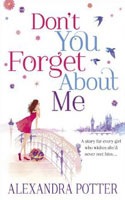 Don't You Forget About Me (2012)
When Tess is dumped by her boyfriend Seb, she decides it's all her fault. Drunk and alone at the stroke of midnight on New Year's Eve, she burns all her mementoes of their relationship and wishes that she'd never met him.
When Tess bumps into Seb on New Year's Eve and he blanks her she soon realises that sometimes wishes can come true. He really doesn't remember who she is which means she can have another crack at their relationship. As she gets to put right her relationship wrongs, will she actually get it right this time?
This was a clever concept for a story that any women who has been through a bad break-up could empathise with. It was a warm and funny read with loveable characters. It may be a little predictable in places, but it didn't spoil the overall enjoyment. This is the first Alexandra Potter book I've read and it won't be the last. (AB)

---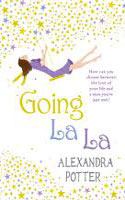 Going La La (2012)
This is an updated version of the novel first published in 2001. Frankie thinks her boyfriend, Hugh, is just about to propose - but instead he tells her he needs space. So after losing her job and flat, she gives him heaps of space - by heading to Los Angeles to stay with her best friend, wannabe actress Rita.
Thanks to Rita's neighbour Dorian, they get a pass into the cool LA scene where Frankie keeps running into a cowboy-hat-wearing photographer called Reilly.
An enjoyable light-hearted read with a pretty ditzy lead. But I've reached my tolerance level for stories that start "girl loses boyfriend, job and flat over the course of a bad day or week".

---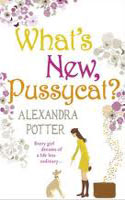 What's New, Pussycat? (2011)
This is the updated version of Alexandra Potter's debut novel, which was first published in 2000. When Delilah's boyfriend Lenny proposes, she realises she doesn't want to spend the rest of her life with him in Yorkshire. Instead, after meeting charismatic TV producer Charlie and throwing in her waitressing job, she packs up her beloved Tom Jones record collection and takes off to London.
Delilah (yes, she was named after that Tom Jones song) winds up in Notting Hill, hoping to run into Charlie again and kick-start a completely new life. Instead she meets cafe chef Sam and moves in with his trust fund friend, Vivienne, as you do.
Another run-of-the-mill rom-com - possibly would have seemed a bit more unusual back in 2000.

---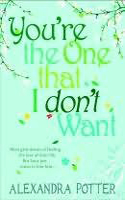 You're The One That I Don't Want (2010)
"You will be together forever and nothing will ever break you apart". To Lucy, nothing could be more romantic or perfect for her and Nate than the legend of the Bridge of Sighs. To be joined for all eternity to the One and for nothing to come between them. But that was when they were teenagers. Since then they have gone their separate ways and it seems that they are not destined to be together after all, that is until Lucy moves to New York and through an enormous twist of fate (or is it the legend?) is reunited with Nate.
But 10 years is a long time and they soon discover that they no longer want to be with one another. But with a Venetian legend, it's not that simple. After they break up, it seems that the universe is constantly conspiring to throw them back together and the prospect of being together forever now seems like a horrible nightmare. Lucy has to try to break the legend or she's stuck with the One that she doesn't want for all eternity.
A nice twist on the usual soulmate story but the plot becomes a bit repetitive. (JC)

---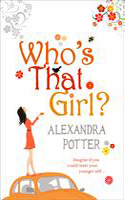 Who's That Girl? (2009)
Also known as The Two Lives of Miss Charlotte Merryweather
Imagine if you could meet your younger self - what advice would you give her? That's exactly what happens to 31-year-old Charlotte Merryweather. Charlotte has come a long way over the past 10 years - she runs her own PR company, wears great clothes; is about to enter the property market with boyfriend Miles; and religiously follows all sorts of dietary advice.
When Charlotte spots her 21-year-old self driving her VW Beetle around town, she follows herself and meets up with Lottie - a girl still dreaming of being a writer, who lives in a slobby apartment, parties hard - and worse smokes, suntans and wears PVC trousers. As Charlotte tries to stop her younger self from making all sorts of mistakes, such as having a one-night stand with rock singer Billy Romani, it seems Lottie has some advice that the 30-something should heed.

---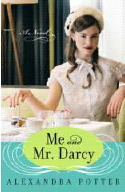 Me and Mr Darcy (2007)
New York book shop assistant Emily Albright finds that no modern man can live up to Pride and Prejudice's Mr Darcy. So when her friend Stella invites her on an 18-30s trip to Mexico, she instead books a guided tour of Jane Austen country in England. But she's hardly going to find her dream partner on a coach full of pensioners.
The only eligible man is a prickly journalist called Spike Hargreaves who's purely along for the ride because he's writing an article about why women love Mr Darcy. And he wins no favour with Emily when he describes her as 'pretty dull, average looking.' Then during a visit to one of Austen's homes, Emily finds herself face-to-face with a handsome stranger wearing beeches and a frock coat who calls himself Mr Darcy. What happens when her fantasy man comes to life?
OK, so many critics hated it, the plot's totally predictable and you may get annoyed that the character is so slow picking up on the Pride and Prejudice parallels in her own story but I read it with a smile on my face.

---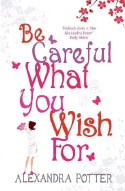 Be Careful What You Wish For (2006)
When wedding photographer Heather Hamilton buys some lucky heather from a gypsy, all her wishes start coming true. She finds an elusive parking spot, scores a date with her hunky neighbour - she even wins a lottery. But as time goes on, are these wishes-come-true a blessing or a curse?

---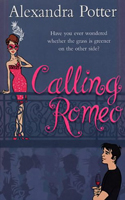 Calling Romeo - Alexandra Potter (2002)
Juliet's relationship with live-in boyfriend Will is in a rut after two and a half years together. When he forgets to meet her for their Valentine's Day dinner, she finds herself drawn to rival ad man, Sykes, who is over from Italy to pitch for the same account. He whisks her off to fair Verona - but can romantic gestures (or lack thereof) make or break a relationship?