ADENA HALPERN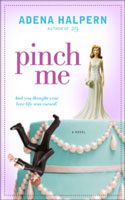 Pinch Me (2011)
Lily is a 29-year-old successful woman who has gone from one bad boyfriend to the next to please her mother and grandmother who think that love is a curse. According to them, she should not marry a man unless he is short, bald, fat and makes her miserable. Which is why, when her handsome, caring boyfriend, Gogo, asks her to marry him atop one of the most romantic locations in the world, Lily is torn. Should she listen to her family and stay away or should she follow her heart and marry the man of her dreams? Finally, she decides that she will do what she wants for once and marry him. Who cares if her family doesn't approve? She's not out to make them happy, she is out to make herself happy. So, when Lily and Gogo elope and get married, the elated bride asks her new groom to "pinch her" to make sure it's all real. However, when he does, Lily is transported back to a time when she was single and didn't even know Gogo. In fact, he has no memory of her meeting him and is now happily married to someone else. Is this why her mother and grandmother were warning her to stay clear of marrying for love only? Tired of being unhappy, Lily must somehow find a way to break the curse that has haunted the women of her family for so many years. With a spirited cast of characters and a unique storyline, this is a funny read. It has a strong-willed and colourful main character, yet it's the supporting cast of Lily's mother, Selma, and grandmother, Dolly, who steal the show. The two of them are hilarious and seem like they need their own two-woman show. (AS)

---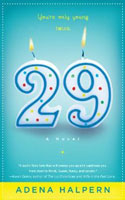 29 (2010)
Widow Ellie is about to blow out the candles for her 75th birthday. Still young-at-heart, she gets along better with her 25-year-old fashion designer granddaughter Lucy than her interfering 55-year-old daughter Barbara. But even with some cosmetic tinkering, Ellie can't hold back time. After wishing to be 29 again, she wakes up the next morning in a much younger body. She hits the town with Lucy - masquerading as a cousin from Chicago - while her best friend Frida and Barbara pair up to track down the missing birthday girl. A fantastic read if you want to lose your preconceptions about older women. Ellie is a wonderful feisty character who needs to face up to some of her life regrets. But it's the bumbling duo of best friend and daughter that really steal the show.

---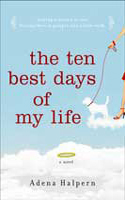 The Ten Best Days of My Life (2008)
Alex Dorenfield dies after being hit by a MINI Cooper while walking her dog Peaches. Arriving at the pearly gates, she is soon reunited with her beloved grandparents and uncle; moves into her dream home with a wardrobe full of designer clothes; and falls for her cute next-door neighbour Adam. But her guardian angel reveals there is a catch - in order to stay in seventh heaven (the highest level) she must prove she was living a fulfilling life by writing an essay about her 10 best days. Alex is an intriguing character who despite being an only 'miracle' child from a wealthy family had to work hard to find her place in the world. This sends the timely reminder that being surrounded by people you love is what really matters in life.