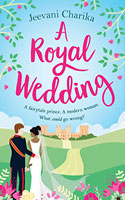 To coincide with the royal nuptials of Prince Harry and Meghan Markle, Jeevani Charika, aka Rhoda Baxter, is releasing her novel, A Royal Wedding. The summary says: "Campaigner, feminist, doctor, humanitarian - all words that Kumari would use to describe herself. Potential princess? Not even in her vocabulary.
But when Kumari's charity work catapults her into the limelight and brings her to the attention of Prince Benedict - playboy prince and sixth in line to the British throne - all bets are off.
Royal party boy, charming rogue, England's most eligible bachelor - Prince Benedict is all those things. Or at least he was. These days he's taking life more seriously, following in his mother's footsteps and focusing on charitable causes.
When he meets Kumari the attraction between them is instant. But, according to the press, Prince Benedict might just have found the most unsuitable bride. Will love win the day?" A Royal Wedding is out in May 2018.
TEXT