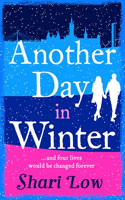 Another four lives will be changed forever as Shari Low continues her winter trilogy with Another Day in Winter. The summary says: "One day, four lives, and a wintery web of secrets and lies.
On a chilly morning in December forever friends Shauna and Lulu touch down at Glasgow Airport on a quest to find answers from the past.
George knows his time is nearing the end, but is it too late to come to terms with his two greatest regrets? His grandson Tom uncovers a betrayal that rocks his world as he finally tracks down the one that got away.
And single mum Chrissie is ready to force her love-life out of hibernation, but can anyone compare to the man who broke her heart?" Another Day in Winter is out in October 2018.
TEXT