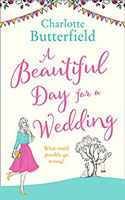 As Eve is a journalist for a wedding magazine, all her friends and family consider her an expert on the subject and ask for her help in organising their weddings. She has five weddings to go this summer and between crazy brides, a Wizard of Oz-themed wedding, her best friend inviting whoever she meets, and her brother's over-the-top requests, Eve doesn't have a minute to herself.
Additionally, her friends think that now she is thirty, it's time to settle down. So after a clairvoyant predicts that her future lies with a man whose name starts with B, all her friends set her up on awful dates with men like that. Ben, the man she once considered the love of her life who left her alone at the airport when they were supposed to move to New York together, is back in London and in her life and all the feelings she had tried to forget start to resurface.
This is a really entertaining and funny novel. The characters are mostly likable and some of them are really colourful and make you laugh. The story is witty and engaging and I really enjoyed reading Eve's adventures, wedding after wedding. (NP)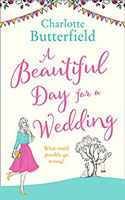 What could possibly go wrong when it's A Beautiful Day for a Wedding? The summary of Charlotte Butterfield's latest novel says: "Wedding journalist Eve is over the moon when her three best friends and her brother all decide to get married in the same summer.
But when she finds out the man she once thought she'd be walking up the aisle with is back in the country and on all the guestlists, she can't wait for wedding season to be over.
As if Ben's sudden reappearance isn't enough, her bridezilla besties have her polishing floors, searching for giant flamingos and dog-sitting while they jet off on honeymoon. Her only release is writing an anonymous column full of her bitter bridesmaid tales - she just needs to make sure the happy couples never find out...
Between facing her relationship demons and juggling her maid-of-honour duties, is Eve doomed to be left out of this summer of love?" A Beautiful Day for a Wedding is out in May 2018.