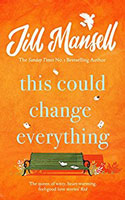 This Could Change Everything – JIll Mansell (2018)
Essie writes a pretend round-robin letter as a joke with her best friend Scarlett, complaining mainly about her boyfriend's mother who is also her boss. When her brother crashes overnight at their place, things go awry and the email is sent to all. Essie's life as she knows it ends, and she has to start over, working at a pub and living upstairs from an eccentric elderly lady called Zillah. It also brings Lucas into her life.
This warm and uplifting story cleverly weaves in a number of small events and meetings that change the courses of people's lives. It was lovely reading about Zillah's mission to grant final wishes to people facing their final days, with the help of photographer Conor. With its gentle romances and endearing characters, it's one to read when you are looking for something to cheer you up.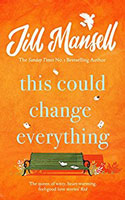 JIll Mansell's latest novel, This Could Change Everything, is about what happens when a private message to a friend inadvertently gets seen by thousands. The summary says: "If only Essie hadn't written that letter - the one that went viral...
On the one hand, if Essie hadn't written that letter - the one that only her best friend was meant to see - then she'd still be living like an actual proper grown-up, tucked up with Paul in his picture-perfect cottage, maybe even planning their wedding.
On the other hand (if her true feelings hadn't accidentally taken the internet by storm, that is) she never would have met Zillah and Conor - not to mention Lucas. And she'd never have found out just how much life there is to be lived..." This Could Change Everything is out in January 2018.