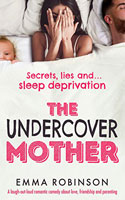 The Undercover Mother - Emma Robinson (2018)
Jenny made a name for herself writing the Girl About Town magazine column about the hip and happening nightclub scene but now she's married to Dan and about to pop out a baby. So when her column is handed over to a younger colleague, Jenny proposes writing a mummy blog during her maternity leave, focusing on being a fish out of water in the world of parenting. Trying to impress her boss and win over readers, Jenny befriends the women of her antenatal class and, unbeknownst to them, uses them as fodder for her blog. The Spice Mums, as she dubs them, comprises young earth mum and yoga teacher Naomi as Sporty, the well-to-do Antonia as Posh, independent businesswoman Gail as Scary, while Ruth, or Ginger, has had a battle trying to conceive.
This is an entertaining story that makes the perfect read for new mums. Most mothers will identify with what these women go through – from sleep deprivation and dirty nappies to having to alter your work ambitions after starting a family. All in all, it's a very promising debut.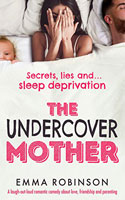 The Undercover Mother, by Emma Robinson, is a humorous look at the first year of motherhood. The summary says: "When I was pregnant, I imagined our new family life as a romantic film montage... the three of us rolling around on the rug together, laughing, or my husband and me pushing a buggy around the park with my perfect hair flowing in the wind.
Spoiler alert: it is not like this. For a start, we never lie on the rug together because it's covered in crumbs from the slice of toast I have been trying to eat since breakfast...
Jenny has too much on her plate: literally - she's only expecting one child but she's eating for at least three. Not to mention trying to juggle her nightmare boss, a know-it-all sister, and an infuriatingly laid-back husband.
She used to be known for her 'Single Girl About Town' column. But when her boss gives her job to a younger colleague, Jenny panics and proposes she blogs instead about being a clueless new mum. Surely people will find her new friendship group fascinating? (Even if the only thing they seem to have in common is that they all had sex around the same time 9 months ago...)
And if her readers aren't quite hooked yet, maybe Jenny will just have to be more liberal with the truth. After all, none of the other mums will read it... will they?" The Undercover Mother is out in March 2018.