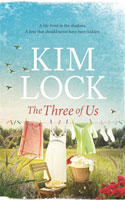 The Three of Us, by Kim Lock, is a novel about secrets and what goes on behind closed doors. The summary says: "In a small suburb of Gawler, South Australia, the tang of cut grass and eucalyptus seem to mingle perpetually on the warm air.
The neat houses perched under the big gum on Church Street have seen many things over the long years. Years of sprinklers stuttering over clipped lawns, children playing behind low brick walls. The milkie, coming and going, leaving out bottles, or blocks of butter and cheese. A seemingly endless stream of youthful paperboys. Couples tending their veggies and chasing chooks. Family barbecues. Gossipy neighbours hanging out washing or drinking sundowners on their verandahs. Arguments. Accidents. Births, deaths, marriages. The street has seen it all. Until the arrival of Thomas, Elsie and Aida.
Kim Lock weaves a tale of three ordinary people with big secrets; a story of forty years of betrayal, marriage, loss and laughter. It is a joyous story, a rich tapestry of Australian life as well as a heartwarming depiction of love against the odds." The Three of Us is out in January 2018.