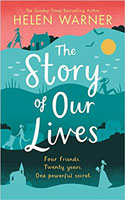 The Story of Our Lives - Helen Warner (2018)
Every year, four friends get together on a weekend away. As the story opens in 1997, around the time of Princess Diana's death, TV producer Sophie is worried her feelings for Steve are waning after seven years together. Her university room-mate Melissa is a party girl who is not ready to settle down, single mum Emily says her son Jack is the only man she needs in her life, and event organiser Amy has just met Nick, the suave businessman she ends up marrying. As the friends get away each year, seeing each other through the highs of engagements and pregnancies, they find it increasingly harder to escape their problems - many they are keeping to themselves.
This story has plenty of drama as we follow the characters through their lives - the passage of time marked with a memorable news event at the start of chapters. I was most engaged by the terrible dilemma that Amy faced, while the reveal about Emily was far too expected. Having read an ebook ARC, the format was somewhat confusing at times when flashbacks swiftly followed time shifts but perhaps this aspect had been smoothed out via page design by the time the paperback hits shelves.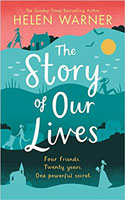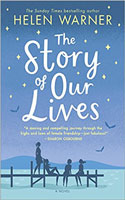 Helen Warner's latest novel, The Story of Our Lives, is about four friends, twenty years and one powerful secret. The summary says: "There are certain dates on which you'll always remember where you were... The day Princess Diana died. 9/11. The London 2012 opening ceremony.
The same is true for Sophie, Emily, Amy and Melissa who have been best friends since they met twenty years ago. As history has moved on around them, they have seen each other through everything. From Sophie's secret fear that she doesn't actually want to be a mother despite having two kids, to Amy's perfect-on-the-outside-abusive-on-the inside marriage to Melissa's spiralling alcoholism and Emily's single motherhood.
But could a lie that spans just as long tear them apart?" The Story of Our Lives is out in February 2018.