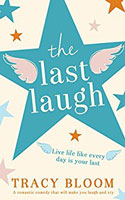 The Last Laugh, by Tracy Bloom, is about living your life as though every day is your last. The summary says: "'I've googled it, how to die,' Jenny says to Maureen. 'It was full of climbing this mountain, swimming that sea, becoming a marathon runner and raising millions for charity.'
'Sounds like bloody hard work. You can make it more fun than that surely?'
Jenny discovers her days are numbered at the same time she discovers her husband is having an affair... Frankly, her life was tough enough already. Two tricky teenagers, her mother's constant complaints, friends who aren't up to the job and a career which has been spiralling downwards since she won 'Sunseeker Tour Rep of the Season' twenty years ago.
And now this: a cheating husband and a death sentence. Enough is enough. Jenny vows to keep both catastrophes a secret. She takes her life - and death - into her own hands and decides to live as she did when she was happiest... in 1996. She plans a spectacular 1990s themed party in place of a wake that she herself will attend. But will she be able to keep her secrets for long enough to have the party of a lifetime?" The Last Laugh is out in February 2018.