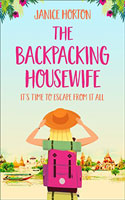 The Backpacking Housewife - Janice Horton (2018)
When Lorraine finds out her husband has been having an affair with her best friend, she grabs her passport, clears out half of their bank account, and takes off to Thailand and Malaysia. As Lori wracks up the miles island hopping, she comes to terms with the end of her marriage and the start of a whole new life. She is keen to embrace all the adventures she can - learning to scuba dive, rescue turtles and even finding some romance.
This escapist read comes across more like a travel diary than an intricately plotted story but it's actually all the richer for it. I very much enjoyed vicariously living through Lori's travels.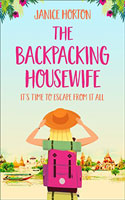 The Backpacking Housewife, by Janice Horton, tells the tale of a woman who ups and leaves her life for an overseas adventure. The summary says: "One mum is leaving it all behind for the adventure of a lifetime...
Lorraine Anderson was meant to be making a Sunday roast, not swanning off to Thailand, backpack in hand! But when she finds her husband and her best friend in bed together there's only one thing to do - grab her passport and never look back.
Now, with each mile travelled Lori sheds the woman she once was and finds the woman she was always meant to be. A woman of passion and spirit who deserves to explore the great unknown ... and to indulge in the temptation she encounters along the way." The Backpacking Housewife is out in July 2018.
TEXT