SARRA MANNING
Sarra Manning is the author of teen novels, including the Diary of a Crush and Fashionistas series.
---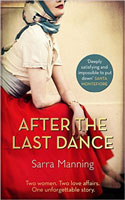 After the Last Dance (2015)
It's 1943 – in the midst of World War II - and a young Rose runs away from her boring Durham home for London. She is enthralled by the romance and excitement of the Rainbow Corner, a dance hall set up by the Red Cross that always has its doors open for the visiting American servicemen. In the present day, Jane was meant to be at church getting married but instead she walks into a Las Vegas bar in her wedding dress and ends up marrying the first guy she chats to – artist Leo whose life is rather screwed up. Told over these two narratives – in the past and present – this is a totally engrossing story. I loved the way Rose and Jane's stories came together. And you can really see that Manning has a real passion for the history of the Rainbow Corner and what life was like for Londoners during the war. A superb read.
---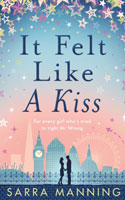 It Felt Like a Kiss (2014)
Ellie works at an upmarket London art gallery owned by Vaughn (from the 2009 novel Unsticky). She's never met her rock-star father Billy Kay - the guy her hippie mother, Ari, had a love affair with. Most people in Ellie's life don't know about her heritage but then her ex-boyfriend, Richey, stumbles across her secret and sells the story to a tabloid. Now she's being stalked by the paparazzi, portrayed as a sex-crazed gold-digger. She is forced to turn to her father's lawyer, David Gold, for help. How can she prove to him she's not the girl the media makes her out to be? This story shines a light on what it is like to be thrown into the spotlight, at the mercy of the British press. Although my interest in the storyline waned throughout, the hounding of Ellie and the back story of her mother's relationship with Billy were highlights. The downsides: the chemistry between Ellie and David felt more like a peck, than a smouldering kiss, and Vaughn was simply awful - was he still such an obnoxious jerk at the end of Unsticky? But despite this, readers looking for a satisfying way to spend a few hours shouldn't go past a Sarra Manning novel.
---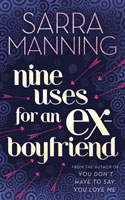 Nine Uses For An Ex Boyfriend (2012)
Hope and Jack have been together for 13 years. During that time, they've settled into a companionable lifestyle in which Hope can rely on Jack to be there for her during the worst of times. Then one day everything changes. When Hope hosts her first grown-up dinner party, she never expects it to end in disaster. Especially not the disaster of her boyfriend and long-time neighbour kissing her beautiful best friend, Susie. In a fit of rage, Hope storms out the door and leaves Jack hanging for the night. However, the next day she goes back home, presumably to pack her things, but instead she listens to Jack's explanation and believes him. The sad thing is that Hope doesn't "get even" - she doesn't even seem to have the willpower to leave Jack after he betrayed her. This was the beginning of the end, for me, because even though I'm a huge fan of Sarra Manning and her previous work, I just couldn't fathom how Hope could go back to Jack after he did such a thing - and at her own dinner party to boot! However, things get complicated where emotions are concerned and Hope begins to wonder if she really wants to be with Jack anymore. Their indecision about what they really want from life and each other causes Hope and Jack to go back and forth like this for much of the story, which seemed a little bit drawn out. Then there is Wilson, who is one of the more likeable characters. He is Susie's ex-boyfriend, who was also hurt during the dinner party kiss. Where does he come into play? Can Hope ever learn to like him? While this is a good story, it's not a great story. It lacks something. Girl power maybe? The I'm-gonna-kick-your-ass-to-the-curb attitude would have made Hope a whole lot more likeable and relatable. That being said, there are surely many women who can relate to Hope's situation and may feel the same emotions and make the same decisions. The question is are they the right decisions? (AS)

---
You Don't Have to Say You Love Me (2011)
Neve Slater is on a mission... to lose weight and to be with the man she loves, William. The only problem is the 25-year-old has never had a proper relationship. Besides giving herself a makeover, she wants to find someone she can have a fake relationship with, so when William comes home from California she is prepared for him. One night, after being dragged out by her sister Celia, she meets Max - her sister's womanising editor. But she comes to an agreement with Max that they will pretend to date so Neve can get an understanding of how a relationship works. Who knows what's in it for Max? As time continues, Neve realises that she is depending more and more on Max and thinking less about William. So what's a girl to do - choose the man she is in a faux relationship with or wait for the man she hasn't seen for years? This is a great book about relationships and finding true love. With so many women on a quest to be thinner, Manning obviously hits a nerve as she focuses on Neve's antics to lose weight, highlighting how far a woman will go to get the perfect body - and man. At times though Neve was perhaps too self-involved with her eating and the lengths she took to get thin. (CG)
---
---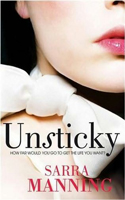 Unsticky (2009)
When Grace, a junior fashion editor on Skirt magazine, gets dumped outside Marc Jacobs on her 23rd birthday, she thought life couldn't get any worse. Then a well-dressed stranger named Vaughn whisks her away and offers her a place in the world she's always dreamed of, far from her £14,000 a year wage. Grace soon finds out there is more to her barely existing life than getting pushed around by the girls in the fashion office and her ever-growing pile of bills. But will she give up her family and friends for a shot at wealth and unexpected love? This can't-put-it-down novel is bound to make you blush on more than one occasion! Touted as Pretty Woman set in London, Manning's first attempt at adult chick lit is a definite success. (GF)
---