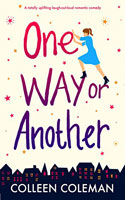 One Way or Another, by Colleen Coleman, is a story about following your dreams. The summary says: "Twenty-nine-year-old Katie Kelly is at an all-time low. The love of her life, gorgeous Ben Cole, took a job abroad and broke her heart, the restaurant she'd put her all into went bust, and now she works in a retirement home, cooking beige mush for the residents.
Not exactly the life Katie had dreamed of...
So when the opportunity comes up to work for one of the best chefs in the country - Katie's idol - she is determined to get the job, no matter what. But then she discovers who she's competing against: Ben, who Katie still isn't over.
As the competition heats up, Katie and Ben spend more and more time together, and it's clear the old spark is still there. But only one person can win their perfect job. Can Katie have it all, or will she have to choose between the man and the career she loves?" One Way or Another is out in April 2018.
TEXT