NICOLA MORIARTY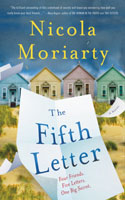 The Fifth Letter (2017)
Joni, Eden, Deb, and Trina met at school when they were twelve and they have been best friends ever since. They shared everything, not only surnames starting with C and their Scorpio star sign - they all know each other's secrets. Or so they think. Between juggling careers, husbands and children, they don't have much time left for each other but luckily their traditional annual holiday always brings them together. And Joni wants to make sure that this holiday brings them closer than ever so they decide to each write anonymously a letter revealing a secret they never shared with the others. But will the truth bring them closer or will it separate them? And who wrote the fifth letter that Joni found burning in the fire?
A brilliant and compelling novel where a twenty-year-old friendship is tested by the secrets they have been keeping. The plot is fascinating and I found the characters likable and irritating at the same time. Playing on the anonymity of the letters, the author creates suspense and anticipation as truths – and lies – are spilled page after page. (NP)
---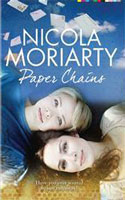 Paper Chains (2013)
Hannah is working at a museum gift shop in London when she comes across the free-spirited India taming a toddler tantrum. The socially awkward Hannah is impressed by India's confidence and ability to get on with anyone. Meanwhile, India loves finding people to save - she's a "lost-soul collector". She figures Hannah is telling lies about her life, and wants to get to the truth. India has been travelling the world and has her own secret reason for constantly moving on. Trouble is she's left behind a guy in the Greek Isles that she just can't forget. Hannah and India - both Australians - become friends and gradually their secrets come out.
This is a well-crafted and moving story with memorable characters. Just as you think you have sussed out the story, Moriarty drops another bombshell on you.
---
Free-Falling (2012)
When Belinda's fiance, Andy, dies suddenly, both she and his mother, Evelyn, blame her for his death. As Belinda reels from her loss, she is shaken to find that Andy might not really be gone - she thinks he is leaving ghostly gifts for her, including one which is going to change her life forever. Meanwhile an angry Evelyn finds herself acting out of character and even taking up skydiving.
With the story told from various viewpoints, this is a confident debut, full of heartfelt moments and nicely conceived outcomes.