MONICA McINERNEY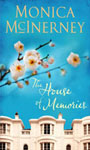 The House of Memories (2012)
From the start of this book, I just fell in love with the wonderful main character Ella. We meet her as a curious young girl, travelling with her parents to visit her uncle Lucas in England. He is an eccentric scholar and his house is filled with talented universtity students, who have their accommodation free in exchange for tutoring local students. He loves foxes, as does Ella, and they have an instant connection. What child wouldn't really? He is young at heart, understanding, thoughtful and loving. I found myself wishing I had an uncle like that too! As the years go on, Ella's parents separate and her mother remarries, and Ella's relationship with Lucas continues via her stepdad's fax machine. She sends her uncle many faxes as a child to which he responds quickly. This beatiful little interaction makes the bond between the two even stronger, and Lucas becomes the unofficial "father figure" in her life. The faxes are of great comfort to Ella as she adapts to life with a new dad and a new stepbrother Charlie but most importantly when her sister is born - the "whole" child as her and Charlie call her - they are the halves, one from each parent. We see the bond grow between Charlie and Ella in their childhood, and then meet Ella again after she has grown up, fallen in love, and has a child. It's here that we get to the core of the story... the hint of pain and sadness of an event that has somehow changed the curious little girl we meet at the start of the story. We take the journey with Ella and learn of not just her own, but her family's, personal recollections and emotions to the event as she uncovers them. This is a lovely story about family, life, loss, forgiveness and love. I highly recommend it, just make sure you have a box of tissues handy... the tears can creep up on you suddenly. (VF)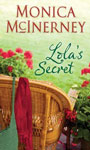 Lola's Secret (2011)
This novel picks up four years down the track from The Alphabet Sisters. Feisty matriarch Lola is now 84 and scheming to spend Christmas without her family at their motel in Clare Valley. Lola still dresses just as flamboyantly as ever and keeps busy, helping out at the local charity shop and learning how to surf the net. In fact Lola uses her newfound internet skills to unleash a plan to invite some mystery guests to the motel for the festive season - and the troubled lives of these different people are woven into the main plot. Meanwhile, her granddaughters Carrie and Bett are both busy with their families - and bickering as usual. And her great-granddaughter Ellen is having trouble coming to terms with her father's new girlfriend. As Christmas approaches, it seems nothing is going to plan - but what does fate have in store for Lola? Fans of The Alphabet Sisters will love this update but you don't need to have read the earlier novel to get caught up in the family dramas. Wouldn't life be great if everyone had a Lola in their lives?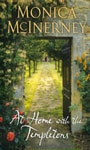 At Home with the Templetons (2010)
It's 2009 and Gracie Templeton has returned to her former home, Templeton Hall, in the Victorian Goldfields in Australia. The story then heads back to 1993 when the Templetons first arrive at the Hall from England. There's Gracie, the youngest daughter, her parents Henry and Eleanor, her sisters Charlotte and Audrey, and the baby of the family, Spencer, plus their troublesome aunt Hope. They transform the old stately home to showcase colonial life and open it to the public. Then the Templetons' lives get entwined with their neighbours - widow Nina and her son Tom. This compelling tale is best enjoyed when you don't know much about the plot. It again proves what a superior storyteller McInerney is and the quirky Templetons are sure to stick in your mind long after you read the last page.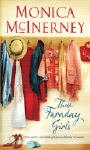 Those Faraday Girls (2007)
Five sisters live with their widowed father Leo in Tasmania - hardworking Juliet, dramatic Miranda, determined Eliza, anxious Sadie and calm Clementine. Then 16-year-old Clementine falls pregnant and the sisters agree to bring up her baby, Maggie, together. Just before Maggie's sixth birthday, an unforgiveable act changes everything. Twenty years later, Maggie is living in New York, when she gets a surprise visit from Leo, who needs her help. When the Faradays gather at their Irish holiday home to celebrate Christmas in July, more family secrets are revealed.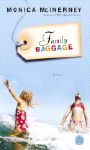 Family Baggage (2005)
Monica McInerney delivers another warm and embracing story, this time about the Turner family. Harriet is the youngest sibling of three, plus stepsister Lara. Harriet, struggling with anxiety and her own self-worth, is called upon at the last minute to lead the specially themed Willoughby tour of Cornwall and Devon with a group of seniors from Victoria who adore the old English detective series. As if this isn't enough for sensitive Harriet, she has to deal with past family tragedy; her growing attraction for the star of the tour, the lead actor, Willoughby himself; the sudden disappearance of her stepsister; her good-looking brother Austin who's never serious and her brother James' wife who is trying to take over the family travel agency business. There is a lot between the covers of this book, however not enough romance and love, but nonetheless it is a richly drawn and authentic story that will warm your heart. (LF)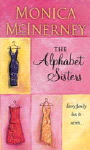 The Alphabet Sisters (2004)
Anna, Bett and Carrie Quinlan were childhood singing stars, The Alphabet Sisters. But they haven't spoken for years, not since Bett's fiancé, Matthew, left her for Carrie. Then their grandmother, Lola, calls them back to their parents' motel in South Australia's Clare Valley for her 80th birthday. Anna's marriage to Glenn is breaking up and she still hasn't got over the dog attack which has scarred her daughter Ellen's face. Bett returns from England and takes on a part-time job back at her former newspaper, while Carrie, who has been working at the hotel, finds the distance growing between her and Matthew. At her party, Lola has a surprise announcement for the sisters, but just as their rift begins to close, they face the biggest test yet.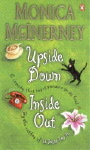 Upside Down Inside Out (2002)
Eva Kennedy heads off to Australia to visit her friend Lainey, to decide whether she wants to take over her uncle Ambrose's delicatessen in Dublin. Successful English businessman Joseph Wheeler is in Australia for an industrial design conference, then is taking a few weeks off to travel. The pair meet but through a series of misunderstandings, Joseph thinks Eva is an Irish singer/sculpturist called Niamh, while Eva thinks he's a penniless English backpacker called Joe. What willl happen when they discover the truth about each other - and themselves?

---
Also by author:


Spin the Bottle



A Taste for It

---