MILLY JOHNSON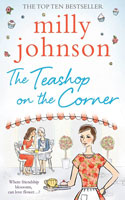 The Teashop on the Corner (2014)
A group of diverse people all find solace and friendship at the Teashop on the Corner, run by Leni. There's Carla, a widower but not really; Will Linton, a businessman whose wife leaves when his business folds; and Molly, a senior whose heart has never recovered from her lost love and whose son and daughter-in-law seem bent on taking everything she has. This is a heartwarming novel, everyone in the group is holding on to a sadness, a secret and a longing that only seems bearable through the friendships found at the teashop. This story was so emotional, I cried and laughed, relating to every character in some way. I would absolutely recommend this as one of the best reads of the year. (KARM)
---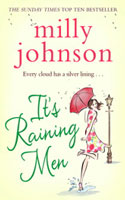 It's Raining Men (2013)
This is a story of three women, who work really hard and love their men more than anything else. But their world is turned upside down when they realise that their men don't love them that much in return. May is in love with a liar. Lara has fallen head over heels for someone who sees her as the full-time caretaker of his children. And Claire is with a man who loves his job more than their relationship. The three friends make plans to escape on a luxurious holiday, spending time at a fabulous spa and taking a break from their men. But destiny comes into play when their booking gets messed up and they end up in the small, mysterious village Ren Dulhem, which strangely has scores of male residents but few women. The women are determined to enjoy their days in the dullest village on earth - and slowly they start to fall in love with the most unlikely men in this village which has a secret no one talks about. This book is full of drama and I liked Milly's swift storytelling skills. Her way of putting twists and turns and mystery into the story when you least expect is fantastic. If you are looking for a lazy summer read, then this one is perfect. (SS)
---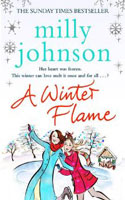 A Winter Flame (2012)
Eve is the female version of Scrooge. She hates Christmas due to her own bad experiences and the death of her fiance, Johnathan, on Christmas Day. So no one is more surprised than Eve to be left one half of a Christmas theme park after her elderly aunt passes away. The other half is left to Jacques Glace, a virtual stranger who Eve must now work hand in hand with if she wants the park to succeed. However, since Eve had never heard her aunt mention Jacques, she begins to form suspicions as to how he got written into the will. Did he take advantage of Eve's aunt because she was old and alone? It sure seems that way and Eve is out to prove it all while running the construction of the theme park and facing a serious illness. But are Eve's suspicions as far from the truth as could be? Can Jacques finally get Eve to see what she really needs in life? This is a sweet Christmas story filled with everything you'd expect of a holiday themed novel - including reindeer, elves and of course, Santa. It's a definite must-read for anyone looking to get into the Christmas spirit! (AS)
---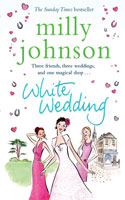 White Wedding (2012)
Three brides-to-be meet at the White Wedding bridal shop, run by Freya. Bel, the heiress to a chocolate company, is planning her wedding to Richard. But she's not letting anyone else help her and it seems she has her reasons for keeping all the arrangements under her control. Driven career woman Max, who has been with Stuart since they were teenagers, was only going to have a quick registry wedding. But as the day approaches, she gets hooked watching the gypsy brides on TV and starts planning her own big fat wedding, without telling her fiance. Violet is just going through the motions with her wedding to the overly attentive Glyn and instead pours her passion into her new ice-cream parlour. These characters and the heartwarming storyline, with its mix of humour and sadness, will draw you in immediately. It's the author's best book since her first. And watch out for the connection to the next character, Eve, from A Winter Flame.
---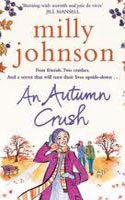 An Autumn Crush (2011)
Recently divorced legal secretary Juliet is looking for a flatmate and finds the perfect one in greeting card copywriter Floz. Juliet's twin brother Guy, a chef, is immediately attracted to the kind-hearted newcomer but his romantic intentions come out so twisted that Floz thinks he hates her instead. Meanwhile Guy's best mate and wrestling partner Steve has always had a crush on Juliet but she thinks he's a bit of knob. While she's holding out for her Mr Perfect, her boss Piers, she agrees to do some internet dating. Floz, on the other hand, is keeping her own online paramour Nick a secret. I think Milly Johnson fans could easily identify one of her books now, without even looking at the distinctive illustrated covers. She specialises in funny storylines where nothing is as it appears and friendship is just as important as the romance. And her characters are always infused with quirky traits and interests. Another book to escape into - no matter what the season is. PS Watch out for an appearance by a character from the next novel, White Wedding.
---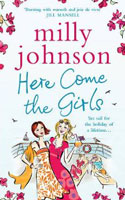 Here Come the Girls (2011)
Four Yorkshire schoolfriends, Olive, Roz, Frankie and Ven, vow to spend their 40th year on a cruise together. Now years later, the moment has arrived. But a meal down the local Italian restaurant seems a more realistic way to celebrate Ven's milestone birthday. Olive is a house cleaner who lives at the beck and call of her slobby husband David and invalid mother-in-law Doreen. Roz is living with the lovely mechanic Manus but she just can't let her defences down after a bad experience with her ex. Not only is she pushing him away, she's no longer talking to Frankie. And Ven has lost her job and been taken to the cleaners by her husband - but she's determined to reunite her friends on a cruise. Soon the girls are walking the gangplank on to Mermaidia but it's obvious that Ven's hiding something. As the ship sets sail for Greece, new friends and loves are made, and it seems that these four women will leave the trip completely different people. For those wondering what life is like on a cruise, Johnson paints a vivid picture, from the seasickness and annoying passengers, to all the culinary delights and on-board entertainment. And a bit like that once-in-a-lifetime holiday, you just never really want it all to end.
---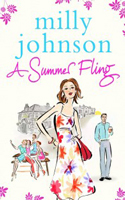 A Summer Fling (2010)
Colleagues Grace, Anna, Dawn and Raychel may work together in the same department but they hardly know anything about each other's lives. Then their new boss Christie arrives in a brightly coloured suit, determined to forge a friendship with them. Fifty-something Grace is trapped in a marriage with Gordon - she fell in love with his kids, rather than him - and the last thing she wants to do is retire with him and head off in a caravan. Thirty-something Dawn is about to get married herself - to the rough Calum who comes with the big raucous family that Dawn doesn't have herself. Anna is about to turn 40 and her boyfriend has just left her for a much younger woman. She's let herself go but can she be saved by a strange man at the train station? And for twenty-something Raychel, she may be happily nesting with husband Ben but what secrets from her past have meant she pushes everyone else away? This story returns to Barnsley and we were promised a cameo from the Yorkshire Pudding Club women. (I missed it and had to flick back through the book to find Elizabeth, Helen and Janey.) It has a cast of well-drawn characters all ranged along the scale from good to evil and a storyline which combines romantic comedy with darker themes.
---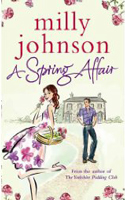 A Spring Affair (2009)
Over the years Lou Winter has become a downtrodden wife - always on hand to whip up a bacon breakfast for her husband Phil and organise his business accounts. She won't stand up to her bullying boss nor stop her mum making negative comments. One day an article about clutter-cleaning inspires Lou to spring-clean her house - and as she clears the decks she rediscovers her moxie. Tom, the nice guy who delivers the skips to cart away her rubbish, reminds her of what she's missing in her marriage, and she reconnects with her best friend Deb. You'll be cheering on Lou as she learns to stand up to her man - and hopefully kick him to the kerb (with the rest of the trash).
---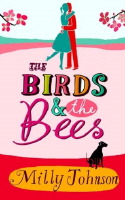 The Birds and the Bees (2008)
Romance writer Stevie Honeywell is counting down to her wedding, when fiancé Matthew goes away on a business trip. Then Adam MacLean, a big, loud, red-haired Scot, turns up on her doorstep, with evidence that his love Jo and Matthew have actually gone away together to Majorca. Stevie, who's heard all about Adam's abuse from Jo, can now see why her friend could no longer stay with this psycho, while Adam takes one look at the flour-splattered wreck of a woman and can understand why any man would leave her for his lovely Jo. But together they team up to wage some psychological warfare on the new couple. Single mum Stevie decides to let Matthew go without a fuss and she pretends to date Adam to drive them both wild with jealousy. So like the Scottish jig The Birds and the Bees, they all swap partners. And it's a dance where all four will discover that love can either sting you or be oh so sweet.
---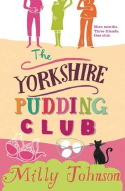 The Yorkshire Pudding Club (2007)
When three Yorkshire friends picnic on top of an ancient fertility symbol, who would have imagined that within months all three would be pregnant. For Helen, the pregnancy is a dream come true, if only her marriage with controlling Simon wasn't crumbling before her eyes. For career-minded Janey who's up for a promotion, it's a nightmare as she never wanted kids but husband George is ecstatic. And then there's Elizabeth, who loses her job after letting her hormones take over and telling the boss to stick his job. Amid the determined return of a man she once pushed away, she fears that she will never love the child she is carrying.