MELISSA HILL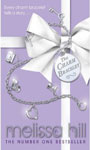 The Charm Bracelet (2012)
Holly O'Neill's most prize possession is her charm bracelet. The charms have mysteriously always appeared when her life takes a significant turn. When she discovers someone else's charm bracelet in a Chanel jacket at the vintage store where she works, she embarks on a journey to reunite it with the owner. Using the charms as clues, she tries to unravel the life of the owner. At first you wonder how in a city as big as New York, it would ever be believable that Holly could track down the owner of a bracelet by just the charms. But the charms are cleverly so unique, that it is totally believable and you soon get sucked into Holly's magical quest. This is a charming and entertaining novel, and I couldn't put it down. And the ending is fantastic. (AB)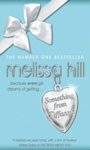 Something from Tiffany's (2011)
On Christmas Eve, two very different men are shopping in Tiffany's on 5th Avenue in New York. Ethan's agenda is to buy his girlfriend Vanessa an exquisite and expensive engagement ring, while Gary happens to be passing the store and realises that he needs an afterthought Christmas present for Rachel, the woman who brought him on a trip to New York. When Ethan comes to Gary's aid after he is hit by a cab, the men's Tiffany purchases become mixed up. Rachel discovers the ring while Gary is in hospital and assumes that Gary was about to propose. Ethan, meanwhile, is gearing himself up to propose to Vanessa on Christmas morning until he discovers that his magical Tiffany's box contains ... a charm bracelet. It's not long before Ethan realises how the mix-up occurs and resolves to track down Gary and get his property back - but with a very expensive ring at stake, will it really be that easy? As time moves on and Ethan's attempts to reunite the ring with the woman it was actually intended for come to nothing, the reader is forced to question if fate has other ideas for the couples. The concept of this book is inspired, and one that will appeal to all demographics. Having read all of Melissa Hill's books, I found this one particularly interesting because I usually can't turn the pages fast enough to get to the twist, but with Something From Tiffany's, the concept was big enough in itself for me to enjoy the book on that level alone. When the biggest twist in the book unfolds, I actually found it secondary to the enjoyment of the characters' journey. There really is something for everyone in this book - not just twists but also good characterisation, romance and mystery. It's definitely a book to recommend to a friend. (SBB)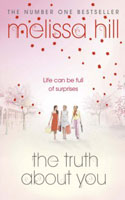 The Truth About You (2010)
This story begins with the discovery of an abandoned newborn baby on the doorstep of a local cafe in Lakeview, a small Irish town. Who could it possibly belong to? We flash back to several months earlier where we meet happily married Jess. She is childless by choice, but as she becomes more and more distanced from her friends with children, she wonders if it's time to become a mother - but is her husband on-board with her plan? And is Jess blindly rushing into something she's not ready for? Meanwhile, local girl turned Hollywood actress Ruth is about to return home to Lakeview - with baggage. A one-night-stand with her cocky co-star has left her with an unplanned consequence that she doesn't know how to deal with. And newly single Nina has also returned to Lakeview to live with her estranged father - but what is she trying to hide from him? As always, there is a delicious twist in this tale. Although I enjoyed the story, I did find myself spending more time trying to guess what the twist was than enjoying the tale itself! But try as you might to anticipate how the book will end, Hill's twists are so well woven into the narrative that it's very hard to work out The Truth About You. (SBB)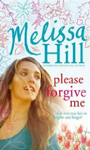 Please Forgive Me (2009)
Leonie has just arrived in San Francisco, leaving behind her fiance Adam in Dublin. Apart from her best friend, Leonie doesn't want anyone to know where she is, especially Adam. In her new apartment she discovers a bundle of unopened letters, written to a Helena from Nathan begging her to forgive him. With forgiveness obviously on Leonie's mind, she sets out to uncover who the couple are so she can return the letters. She is aided on her quest by her neighbour Alex, a TV producer who seems to be hiding a secret from her past as well. Melissa Hill is chick lit's master of plot twists and I have to admit one of my life goals is to work out where her story is going before she reveals it to her readers. This was my seventh, unsuccessful attempt! With three story threads to resolve - Leonie's, Alex's and Helena/Nathan's - this is a real pageturner that will leave you guessing then reassessing the clues all the way through.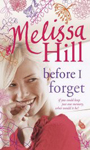 Before I Forget (2008)
A freak accident has left Abby with a head injury that means it'll be difficult for her to retain new memories. So with the help of her family and best friend she embarks on achieving a list of experiences too memorable to forget, such as gambling in Las Vegas and seeing an opera in Italy. In fact, after having spent so long hiding herself away from life after the break-up of her relationship with Kieran, this jolt to her head may be just what she needed. Then she meets Finn in New York, and they spend a magical day together on Christmas Eve. But what will happen if she ever runs into him again? A touching story that provides yet another take on the popular chick lit theme of memory loss.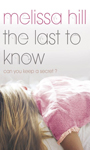 The Last to Know (2007)
Eve and Liam have been together for nine years and have two children together - so why won't he put a ring on her finger? Her sister Sam, a London newspaper columnist and author, has just turned down Derek's wedding proposal for the third time while her friend Anna seems reluctant to walk down the aisle with her childhood sweetheart Ronan. Both Sam and Anna have their doubts about Liam's intentions. After all his frequent overseas trips as a wine importer mean he's hardly ever there for his family. Meanwhile in Australia, Brooke's boyfriend Will also spends a lot of time away on work trips but her job in a publishing company keeps her busy. Then a manuscript called The Last to Know - the story of Eve, Sam and Anna - drops on her desk. But is the author looking for more than just a book deal? As much as you try to second-guess where Hill is taking the plot, she's always one step ahead of you.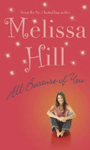 All Because of You (2006)
Tara has created a successful life coach business and lives with Glenn. When her spoilt younger sister Emma announces she's pregnant and refuses to name the father, suspicions are aroused. Could it be Eric, the husband of Tara's best friend Liz, who suddenly seems to be meeting up with Emma secretly? Glamorous PR agent Natalie meets Tara while on holiday in Egypt. They bond while Glenn is off learning to scuba dive, and Tara agrees to coach her in how to land the man of her dreams. And just when I thought I had all the answers sussed out, the author did the twist again - throwing in several unexpected plot turns that I never saw coming.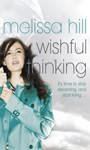 Wishful Thinking (2005)
Three women are facing some personal trials - and somehow are connected through a fatal train crash in Dublin. Widow Rosie finds her two grown-up children are taking advantage of her. Daughter Sophie only seems to want her around to support her ridiculous mortgage, while son David's marriage has broken up so he wants to move back home. Lawyer Dara has just recently married a sweet man called Mark but knows her heart really belongs to the one that got away, Noah. And Louise is drowning in debt but is under pressure from her friends to maintain her expensive social life. She's hoping a looming court case will help her clear her debts. With Hill's trademark twists, some slowly revealed connections between the characters and the story building towards the train crash climax, it'll be wishful thinking for you to think you can put this book down before you reach the end.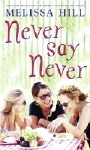 Never Say Never (2005)
A group of Irish university friends arrange to meet five years on. The book then skips to seven years later when it is clear that life has not gone according to plan . . . There's Olivia, who was married to college sweetheart Peter and has a daughter, Ellie, who he never knew. Can she ever get over her grief and find a new man? Accountant Robin lives in the US and is determined never to return home. But her publisher wants her in Ireland to publicise her book series for kids with allergies. Leah is unhappily heading towards the big 3-0, despite a successful business partnership with fellow graduate Andrew, a star rugby player who is married to the jealous Amanda. The unexpected twist (it actually made me gasp) really makes this a fantastic read.
Not What You Think (2004)
Chloe Fallon is planning the wedding of the year. But little does she realise how a mix-up over invitations will cause trouble for herself, her fiance; Dan Hunt and a group of three friends. Laura Fanning is about to marry Neil, who is very supportive of her decision to quit her job and start her own jewellery company - even if her own family is horrified. When she is given Chloe's invitations by mistake, she realises that the groom is her friend Nicola Peters' ex. Nicola is now dating Ken, the manager of the gym where she works and the last thing she needs is having Dan come back into her life. Meanwhile, the third friend Helen Jackson has a great career but has never bonded with her young daughter Kerry. The father left her and no man has wanted to stick around since. But maybe she's about to take her friends for granted once too often. When Chloe starts delving into why Dan and Nicola broke up, all sorts of secrets start coming to the surface - and of course there's a big twist or two.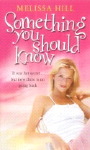 Something You Should Know (2004)
Jenny thought she'd met the love of her life in Roan Williams but then he walked out on her life and broke her heart. Then Jenny met Mike and is happy, that is until Roan walks back into their lives. Jenny is keeping a secret, and it could destroy everything. And with Roan around, she finds secrets aren't always kept hidden. This book starts off in the present day and then goes back into the past to find out what happened with Jenny and Roan. Melissa Hill always manages to introduce characters you can relate to. My favourite was Mike as I felt sorry for him throughout, as he was such a nice person but wasn't treated fairly. (KD)

---
---