LUCY DIAMOND
Lucy Diamond is the adult pen name for British children's author Sue Mongredien.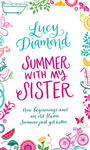 Summer With My Sister - Lucy Diamond (2012)
Polly and Clare are two sisters who couldn't be any more different to each other, yet share similarities they're unaware of. Polly has always been driven, and is living it up in London in the world of finance with late nights and partying. Clare is a divorced mum of two children struggling to make ends meet. But when Polly's life is turned upside down, she is forced to swallow her pride and turn to her family for help. Added into the mix is an old flame for Polly, a new career and mindset for Clare, and a family tragedy. From the first page the reader is drawn into Polly's city life and how she has a high-faluting lifestyle, going out all the time, working all hours and not seeing much of her family apart from Christmas. On the other hand, Clare is still living at home, in the village where she grew up and working as a receptionist at a doctor's surgery with her friend Roxanne. I disliked Polly initially as she seemed too full of herself and it isn't until she moves back home that we begin to see why she is like this. Clare is a brilliant character, trying to juggle single motherhood and a life of her own. Perhaps the big family secret was revealed a bit too early, but overall this was an enjoyable read which left me keen to see what Lucy Diamond will offer next. (KD)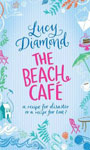 The Beach Cafe (2011)
Evie has never really settled into a job. She's tried her hand at acting, photography ... and now she's working in the office temp job from hell. So when her aunt Jo dies and leaves her Cornwall beach cafe to her favourite niece, it may just provide the opportunity for Evie to prove herself - to her family and herself. But the staff have gone feral in Jo's absence and the locals aren't particularly welcoming. As Evie finds her feet and hires new staff - including her aunt's cake-baking friend Annie, chef Ed who seems to be hiding something, and Australian backpacker Rachel - she slowly becomes a vital part of village life. This is another delightful read from Diamond, about a woman without direction discovering her own inherited recipe for happiness.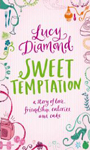 Sweet Temptation (2010)
Maddie works for a radio station where the new bitchy DJ, Collette, likes to put her down - even discussing her weight problem on air. Beauty therapist Jess' overbearing fiance, Charlie, keeps postponing their wedding and her new manager has it in for her. And LoveHearts dating agency owner Lauren is feeling far from romantic after her marriage ended within six months. The three women all become diet buddies at the local Fatbusters group. As they shed the pounds, they also begin shedding whatever has been holding them back. This is a sweet, funny story about three women inspired to make some changes. Just right if you're looking to order a light read off the menu. Just make sure you read it while riding an exercise bike!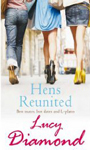 Hens Reunited (2009)
Georgia, Katie and Alice attended each other's hen's nights but now years down the track their marriages have all broken up. Georgia, who wed party boy Harry, is an ambitious newspaper gossip columnist who never wants to make that mistake again. Alice married up-and-coming actor Jake who went on to become famous for his role in a popular soap. Now, with her marriage in tatters, she is moving into a country cottage with the baby daughter Jake's never seen - and she's never going to forgive Georgia for her betrayal. Teacher Katie never wants to get married again, after husband Neil cheated on her - but her loyal boyfriend Steve may have other plans. With the story told in alternating chapters, readers will be drawn into the realistically portrayed lives of the three women. This is the author's best to date.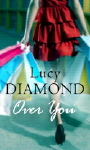 Over You (2008)
The days when Josie, Nell and Lisa were inseparable, living it up in London, seem like a lifetime ago. They have all since gone in separate directions - Josie into marriage and kids; Nell into travelling the world; and Lisa into a high-flying career. With a reunion well overdue, Josie arranges a weekend away with her friends, leaving her husband Pete to look after the kids. Little did she know as she made the train trip into the city that she was about to make a discovery that would change the course of her life. A solid story of friendship and jealousy, betrayal and starting over, with enough twists to keep you turning the pages.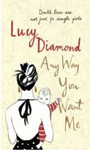 Any Way You Want Me (2007)
Stay-at-home mother Sadie feels that her life needs to be more interesting. She wants to enjoy nights out on the town without being forced home by leaking breasts. She wants to flirt and feel like a sex kitten. So she invents a fictitious online identity for herself and makes contact with a former boyfriend, Danny. But the real threat to her relationship with partner Alex comes when she falls for his boss' husband. She did say she wanted a different life . . .

---
Also by author:


Me and Mr Jones

---