LAUREN WEISBERGER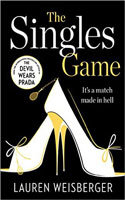 The Singles Game (2016)
Following a bad injury at Wimbledon, Charlie Silver is back on the tennis court ready to win her first Grand Slam. But her good-girl attitude is not going to get her into the big league. So, with the help of brutal tennis coach Todd Feltner, she turns into a warrior princess who no longer apologises to her adversaries after a game. Between parties and casual encounters with hot tennis players and hotter Hollywood stars, Charlie will have to decide what and who she is willing to sacrifice to become number one. I am not a tennis enthusiast, I have never watched a tennis match in my life, but I was engrossed in this book from the first page. It captures the life of a tennis pro, travelling around the world from one tournament to the next and never being able to see her friends and family or eat and drink what she wants (as a huge coffee lover I could feel Charlie's pain when she was forced to give up caffeine). I loved the character of Charlie who works hard to follow her dream even if that means walking all over somebody and then feeling guilty about it. A brilliant, fantastic read even for those out there who, like me, have no idea what a Grand Slam is. (NP)

---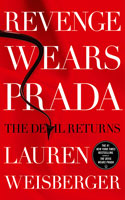 Revenge Wears Prada (2013)
Ten years have passed since Andy Sachs unceremoniously quit her job as assistant to the cruel Miranda Priestly, editor-in-chief of Runway Magazine. Though time has passed, her memories of Miranda still give her nightmares. She never wants to see that woman again. Ever. Since then, Andy has struck up an unlikely friendship with her past co-worker and nemesis, Emily. Together, they start a high-end bridal magazine called The Plunge. She meets Max Harrison - a wealthy, handsome, charming man, and seems to be everything Andy ever wanted. Things are looking up for Andy. Until... she finds out that her pompous future mother-in-law is actively trying to get rid of her. And that her husband may be keeping secrets. And that she still might be in love with her ex-boyfriend, Alex. And, perhaps worst of all: Miranda Priestly wants to buy her magazine, and keeps popping up in her life in unexpected ways. Should Andy marry Max anyway? Should she leave her magazine, her baby, that she worked so hard for, in the hands of the devil? After all the hype and anticipation for the sequel to The Devil Wears Prada, I felt a bit let down by this book. It just didn't meet my expectations. The title had me conjuring images of the evil Miranda, going out of her way to wreak havoc on Andy's life. But, Miranda played a rather minor role, and what she did do could hardly count as revenge. It was interesting to find out what happened to the characters from the first book, but it wasn't at all what I expected, and frankly, a bit boring at times. (CK)
---
---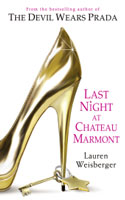 Last Night at Chateau Marmont (2010)
Brooke Alter has been working two jobs to support herself and her husband, Julian, while he pursues a music career. It's been years and her friends and family have repeatedly told her to give up on him, but Brooke doesn't because she knows that Julian has what it takes to be a hit musician. And she's right. Julian gets a record deal with Sony and within days their lives change. Julian is whisked off to Los Angeles for meetings and Brooke gets to tag along and stay at the famed Chateau Marmont. They're soon having dinner with celebrities, attending glamorous parties and having a blast when Julian goes on tour with Maroon 5. Life has changed for the once-upon-a-time happy couple though. Their marriage is strained through Julian's constant absence and the perils of fame are getting to Brooke. Torn between her real life, which includes her responsibilities as a nutritionist, and her husband's budding music career proves difficult. But it's what she's been working for her since the beginning and it only seems right to support him now that he's attained his dream. This novel has just enough real life drama mixed with celebrity to make it interesting and fun. It takes you through the trials and tribulations of fame, while also adding in behind-the-scenes information. It's a perfect novel for the modern girl who is interested in fame and fortune but also wants to stay grounded. (AS)
---
---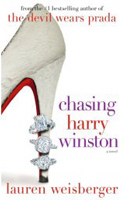 Chasing Harry Winston (2008)
Emmy's latest long-term relationship has just ended. Instead of Duncan popping the question, he's run off with his personal trainer. Adriana only ever has flings and doesn't have or need a job. But as she approaches 30, she's beginning to think things need to change. So Emmy and Adriana make a pact - Emmy is to sleep with a man from every continent while Adriana is looking for one man to place a diamond ring on her finger within the year. Meanwhile their friend, the slightly neurotic book editor Leigh, is about to get engaged to her boyfriend, Russell, a real catch. So why has author Jesse Chapman got her all hot under the collar? If you have been hankering after some pure chick lit (and aren't looking to scratch the surface too deep), this story about three friends trying to change their lives may be just as welcome as a four-carat diamond ring.
---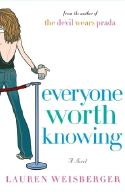 Everyone Worth Knowing (2005)
When Bette Robinson quits her banking job, her uncle, a social columnist, sets her up as a party planner for one of Manhattan's hottest PR firms. But Bette starts getting lots of publicity herself when she is seen out and about with one of New York's most eligible bachelors, Philip Weston. She gets quickly promoted to organising events. But is a job that pays you to party all that it's cracked up to be?
---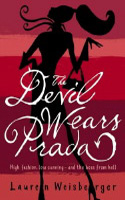 The Devil Wears Prada (2003)
The Devil Wears Prada is the quintessential boss-from-hell tale and became an international bestseller. A movie of the same name stars Anne Hathway as Andrea and Meryl Streep as Miranda. (Lauren Weisberger has a cameo appearance in the film and is briefly seen in the train scene with Miranda's twins.) Aspiring writer Andrea Sachs lands the job 'a million girls would die for' as a junior assistant to Miranda Priestley, the demanding editor-in-chief of fashion magazine Runway. Andrea's dream job is to write for The New Yorker but despite her lack of dress sense, a bout of dysentery in India and no time to eat on the job soon sees Andrea able to fit better into the magazine's world - and its designer samples. Andrea gets caught up working 14-hour days, trying to make sense of Miranda's usually unreasonable commands, from getting a yet-to-be-released Harry Potter book into the hands of her children to finding the name of a store where she once spotted a vintage dresser. Andrea barely sees boyfriend Alex or flatmate Lily but she's willing to stick at the job for a year so Miranda will recommend her for her dream job. It comes in as No. 1 on my list of Top Ten all-time favourites.