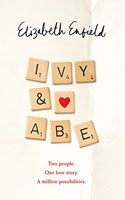 Ivy and Abe, the debut novel by Elizabeth Enfield, is a love story of two people reuniting at different times and places in their lives. The summary says: "Two people. One love story. A million possibilities.
Ivy and Abe were inseparable as children until an accident tore them apart. Several decades later, when both are in their seventies, a chance encounter reunites them. But time is not on their side.
What if they'd met in a different time and place? In another life, Ivy and Abe meet in their forties, when both are married already. Unable to resist the attraction between them, they embark on a passionate affair.
In yet another, they marry young, with a bright future ahead of them - only for a dark shadow to threaten their happiness.
Throughout various incarnations of their lives, they come together and go their separate ways, fall in and out of love, make or break promises. In every universe, Ivy and Abe are meant to meet. But are they meant to be?" Ivy and Abe is out in February 2018.