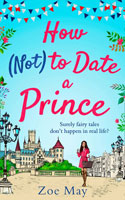 How (Not) to Date a Prince, by Zoe May, will surely get you in the mood for the impending royal wedding of Prince Harry and Meghan Markle. The summary says: "Surely fairy tales don't happen in real life?
After being jilted at the altar, high-flying journalist Sam doesn't believe in love any more - and she certainly doesn't believe in fairy tales! So, when she's asked to cover the royal wedding, it's the last thing she wants to do.
And when she crashes into a ridiculously handsome stranger, Fredrik, later that day, things are going from bad to worse. But as the big day draws closer, Sam finds herself being swept up in the excitement - as well as swept off her feet by Fredrik!
But there's something that Fredrik's hiding from her - and when he finally reveals his secret, might Sam just have the happy-ever-after she never thought she wanted...?" How (Not) to Date a Prince is out in May 2018.
TEXT