ERICA JAMES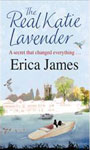 The Real Katie Lavender (2011)
A trip to a solicitor's office a year after her mother's death reveals that Katie's late dad was not actually her biological father. Instead her mother had an affair with her boss, Stirling Nightingale, who has set up a trust fund for the child he has never seen. With no pressure for Katie to make contact with him, she decides she is curious enough to just observe him from a distance. But when she arrives at his property in Henley-on-Thames, somehow she is swept into waitressing at the 90th birthday party for his mother Cecily. Soon Katie finds that she can't just remain as an observer. But with a tragedy and its aftershocks rocking the Nightingales, not all are happy to welcome the latest addition into the family. This is an intriguing story about a girl trying to find her place in a family she never knew she had - and a family trying to deal with secrets it never knew it had.


Promises, Promises (2010)
House cleaner Maggie promises to stand up for herself more, particularly around her pushy, rude clients, slobby husband Dave and obnoxious mother-in-law Brenda. Businessman Ethan, who is married to one of Maggie's rudest clients, Francine, aims to stay away from other women. But his pledge is tested when he meets Ella, the painting specialist hired by the free-spending Francine for yet another spot of redecorating. But Ella - who has just ended a seven-year-relationship with widower Lawrence, finally driven away by his non-accepting daughter Alexis - has vowed to let her head rule over her heart for once. Read this for its characters, including the appalling Francine and her vengeful neighbour, Christine. For readers who have found James' books always offer the promise of a good read - this one won't let you down either.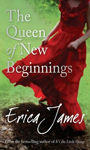 The Queen of New Beginnings (2010)
Screenwriter Clayton Miller is hiding out in a remote country house after committing a rather public fall from grace. Voiceover artist Alice used to live at Cuckoo House - not that she wants anyone to know that - and returns to her childhood home as a cleaner. After a less-than-stellar beginning, Clayton and Alice hit it off and eventually reveal their secrets to each other, explaining what caused Alice's family life to disintegrate and why Clayton has become such a reviled figure. In this case, Erica James is the queen of intriguing beginnings - and you'll enjoy the characters' journey out of isolation - starting with Clayton's obituary-writing funk and Alice's Latvian pretence - to a happier ending.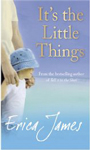 It's The Little Things (2008)
It's been several years since Dan and Sally, and their friend Chloe, survived the Boxing Day tsunami. Dan and Sally now have a little boy, Marcus, conceived in the disaster's aftermath - Dan is a stay-at-home dad while Sally is rarely home as she spends long hours working as a divorce lawyer. Chloe, who followed her father's footsteps into his medical practice, is single - after her long-term boyfriend dumped her when they returned from their life-changing experience in Phuket. When she meets Seth, everyone including Chloe is hoping he may be The One. But there's something Seth hasn't been upfront about. And Sally is going to get caught up in an act of deception.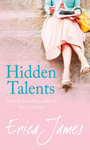 Hidden Talents (2002)
A group of diverse people are drawn together through a creative writing group called Hidden Talents. There's group leader Dulcie, who is having an affair with a married man. Widow Beth is needing a new challenge in life as her son Nathan is finishing off school. And she may just find that through an online friendship with another aspiring author. Realtor Jack is getting over his wife leaving him for his best friend while the youngest member of the group, 17-year-old Jaz, uses her writing as a refuge from her big boisterous family. And then there's pompous Victor who is convinced he's got a bestseller on his hands. The group forge close ties as they deal with numerous trials and tribulations.

---
Also by author:


The Hidden Cottage



Tell It to the Skies



Gardens of Delight



Love and Devotion



Paradise House


Precious Time



The Holiday



Act of Faith



A Sense of Belonging



Airs and Graces



Time for a Change



A Breath of Fresh Air

---