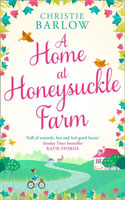 A Home at Honeysuckle Farm, by Christie Barlow, is about a family secret and a second chance. The summary says: "One shocking argument and ten-year-old Alice Parker's world was turned upside down. Her peaceful life at Honeysuckle Farm in the quiet rural village of Brook Bridge swapped for the bustling metropolis of New York City. Alice's life was changed forever...
Now, thirteen years later, Alice's American dream is over. With her life in tatters, there is only one place Alice wants to be... home at Honeysuckle Farm. So, when Alice learns her beloved Grandie is ill, she knows this is her last chance to heal the family rift.
But secrets still swirl in Brook Bridge, and Alice is no closer to discovering the truth. And for some reason her new friendship with local heart-throb Sam Reid seems to be making the locals tense. Sick of the lies, Alice knows it's time to lay the past to rest once and for all. But could the truth ruin her hopes of ever calling Honeysuckle Farm home again?" A Home at Honeysuckle Farm is out in April 2018.
TEXT